KB, KU, Ks type fuse link
"KB, KU, Ks"type fuses belong to "K"and"T"type fuse,it has general type,universal type and screw type available accarding to IEC-282 standard.Tkey are suitabe for dropoff fuse cut out with rated voltage 11-36kv.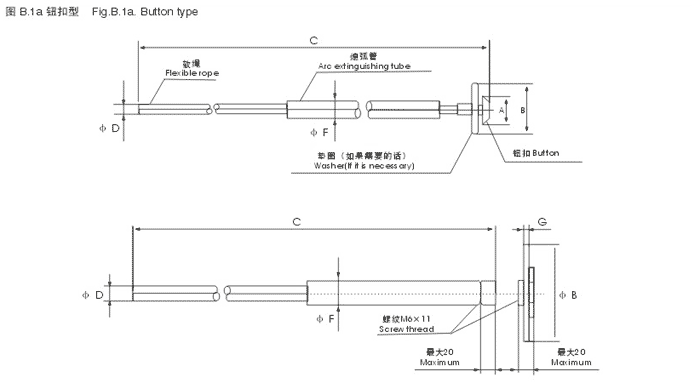 Structure
1,Removable button head, which can be cooperated with arc shortening rod.
2,Fuse element: eutectic alloy which can be melted at low temperature to avoid the burning of arc-extinguishing tube.
3,High strength strain wire, which can withstand the tensile strength from fuse cutout flipper and outside pulling strength.
4,Swaged connected end guarantees the reliable connection of elements and are not easily damaged.
5,Swaged cable section prevents splaying of strands of cable, to ensure the cable's smooth withdrawal from tube during the melting of fuse link.
6,Tinned copper stranded cable, resists corrosion, its cable diameter can resist corona.
7,Auxiliary arc-extinguishing tube, improves the capability of interrupting low fault current, and has the special ability to interrupt full range fault.