Zinc Oxide Arrester Combined over-voltage protectors
Use
RSB integrated over-voltage protection is a new over-voltage protection, mainly for 35KV and below the power system, the protection of transformers, switches, bus, motor, parallel compensation capacitors and other electrical equipment, limit atmospheric over-voltage and all kinds of vacuum breaker operation due to over voltage, phase to phase and reliable over-voltage can play a limited role.
Outline
RSB phase combined over-voltage protection surge arresters consisting shown by the four four-star type connection, so that the respective phases, the phases have been over-voltage protection. Due to the ingenious structure, so that a lightning arrester role played six. While overcoming the simple three arrester star connection could not be better protected disadvantage white over-voltage. RSB phase combined over-voltage protection can be series gap type, and may be no gap.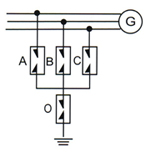 ◆ Type instruction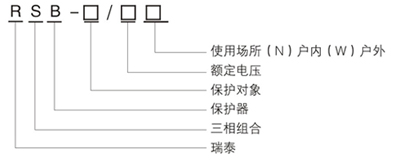 Normal conditions of use
● Suitable for indoor and outside;
● Ambient temperature -40 ℃ ~ 40 ℃;
● Altitude less than 2500m;
● Power frequency not less than 48Hz, not more than 62Hz;
● seismic intensity of 7 degrees and the following areas;
● The maximum wind speed does not exceed 35m / s;
● over-voltage protection for long-term r voltage shall not exceed the continuous operating voltage.
NOTE: If more than the above normal conditions of use, please contact me technical department.
Structure dimensions
This product is packed in bite to various models of KYN, GBC, JYN, GZSl, × GN etc. below 35KV
High Voltage Switchgear inside. Overvoltage protectors except four lug f bare conductor, the other part is closed insulator, so
Users install, without regard to its phase distance and ground distance. Simply; cable marked with the ground symbol kidney cells
The ground, the rest of the tap A, B, C two-phase can be. The product can be installed directly on the chassis or the mutual inductance high voltage switchgear
Cabin, in the order cable lengths are available upon request, standard cable length 60cm.